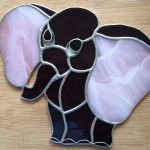 Welcome to my new site!
This site allows me to share with you my love of stained glass.  You will find photos of my stained glass creations (and other material), a little information about me, and dates of my next markets.
If you have any questions, please feel free to send me a message via the "Contact" page.  And if you wish, you can leave a comment on the "Guestbook" page.